Donating a vehicle in Arizona (AZ)
We accept cars, boats, motorcycles, RVs, and even trains, construction vehicles and airplanes. Your generous donation makes a big difference to the charities we support. Donating a vehicle in Arizona is easy. Donation2Charity can walk you through the entire process, step-by-step. And the best part is you get a Tax deduction. We will provide you with a receipt for your tax deductible donation. For more information, visit our Tax Deduction page.
We have 12 charities that we support and you can select your charity of choice from the side icons or the Charities menu. If you are not sure what charity to select, please visit the charity pages to learn more.
We are an environmentally conscious company and we take vehicles that are considered junk for recycling. Our goal is to preserve the beautiful landscapes of our great country and protect its resources by utilizing the materials that can be reused; such as steel, from vehicles that cannot be repaired. The recycling process can dramatically reduce the need to mine new iron ore.
You can donate now! Use our simple two-step online form or call us toll free at 888-325-4155 today!
Click Image to Enlarge
---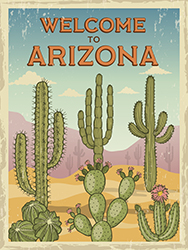 Like its most famous natural landmark, the Grand Canyon, Arizona is also vast and ancient, a tapestry of stunning color and fascinating geology. The state is rich with rushing rivers, snow-capped mountains, stands of ponderosa pine, pristine lakes and sandy lakefront beaches. It's a destination that offers an easy combination of outdoor adventure and urban sophistication. Hike the red rocks and alpine forests. Drive across the desert on Historic Route 66. Indulge in a spa day. Whether you're looking for a lesson in Old West history, to perfect your golf game or to browse designer outlets and high-end boutiques, you'll find unforgettable delights in Arizona.
---
Helpful Links