Donating a vehicle in Indiana (IN)
We accept cars, boats, motorcycles, RVs, and even trains, construction vehicles and airplanes. Your generous donation makes a big difference to the charities we support. Donating a vehicle in Indiana is easy. Donation2Charity can walk you through the entire process, step-by-step. And the best part is you get a Tax deduction. We will provide you with a receipt for your tax deductible donation. For more information, visit our Tax Deduction page.
We have 12 charities that we support and you can select your charity of choice from the side icons or the Charities menu. If you are not sure what charity to select, please visit the charity pages to learn more.
We are an environmentally conscious company and we take vehicles that are considered junk for recycling. Our goal is to preserve the beautiful landscapes of our great country and protect its resources by utilizing the materials that can be reused; such as steel, from vehicles that cannot be repaired. The recycling process can dramatically reduce the need to mine new iron ore.
You can donate now! Use our simple two-step online form or call us toll free at 888-325-4155 today!
Click Image to Enlarge
---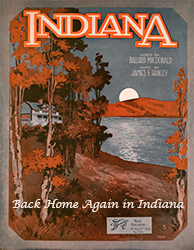 There's a genuine personality that translates into authentic experiences for those visiting Indiana. Here, travelers can spend their days paddling a winding river, fishing an inland lake or browsing the shops on Main Street. They can enjoy homegrown produce – and get to know the growers – at our farmer's markets, eateries and vineyards. World-class cities offer internationally renowned museums, performing arts venues and high-energy sporting events – all paired with friendliness as an added bonus. They can visit a bustling capital city, sunbathe beneath the soaring sand dunes, climb the highest hilltops or explore the deepest depths beneath the surface of the earth. Anywhere travelers go in Indiana, they'll encounter genuine people and experiences. Even the busiest attractions aim to satisfy and delight because in Indiana, more than anywhere else, hospitality matters. That's real. That's Honest-to-Goodness Indiana.
---
Helpful Links