Donating a vehicle in Delaware (DE)
We accept cars, boats, motorcycles, RVs, and even trains, construction vehicles and airplanes. Your generous donation makes a big difference to the charities we support. Donating a vehicle in Delaware is easy. Donation2Charity can walk you through the entire process, step-by-step. And the best part is you get a Tax deduction. We will provide you with a receipt for your tax deductible donation. For more information, visit our Tax Deduction page.
We have 12 charities that we support and you can select your charity of choice from the side icons or the Charities menu. If you are not sure what charity to select, please visit the charity pages to learn more.
You can donate now! Use our simple two-step online form or call us toll free at 888-325-4155 today!
Click Image to Enlarge
---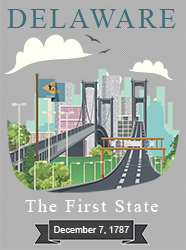 From opulent mansions to crystal-clean beaches to tax-free shopping, Delaware is the state that delivers so much adventure in so little time and for such little expense. Whether you start at the regal Du Pont family estates in the north or the family-friendly ocean resorts in the south, Delaware gives time-pressed and budget-conscious travelers the kinds of options they simply couldn't find anywhere else on the US East Coast. It's all right in the middle of the action-packed Mid-Atlantic with easy access from nearby international airports, Interstate 95 and AMTRAK rail lines. Select your flavor of fun, and savor the land of endless discoveries.
---
Helpful Links