Donating a vehicle in Kansas (KS)
We accept cars, boats, motorcycles, RVs, and even trains, construction vehicles and airplanes. Your generous donation makes a big difference to the charities we support. Donating a vehicle in Kansas is easy. Donation2Charity can walk you through the entire process, step-by-step. And the best part is you get a Tax deduction. We will provide you with a receipt for your tax deductible donation. For more information, visit our Tax Deduction page.
We have 12 charities that we support and you can select your charity of choice from the side icons or the Charities menu. If you are not sure what charity to select, please visit the charity pages to learn more.
We are an environmentally conscious company and we take vehicles that are considered junk for recycling. Our goal is to preserve the beautiful landscapes of our great country and protect its resources by utilizing the materials that can be reused; such as steel, from vehicles that cannot be repaired. The recycling process can dramatically reduce the need to mine new iron ore.
You can donate now! Use our simple two-step online form or call us toll free at 888-325-4155 today!
Click Image to Enlarge
---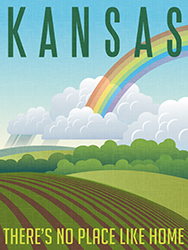 Kansas is a slice of classic America, with its rugged cowboy culture and sweeping prairies. "Home, home on the range" are words from the state's official song, and visitors can stay on authentic cattle ranches from rustic to farm chic. The state is rich in American Indian history, with museums devoted to the tribes that once lived here (four still do). In the Flint Hills, you can tour the vast tallgrass prairie to learn the significance of this delicate and beautiful ecosystem. See bison and attend a rodeo. Make time to eat: Kansans are proud of their smoked barbecue, Kansas City steaks and comfort foods like fried chicken and homemade pie.
---
Helpful Links